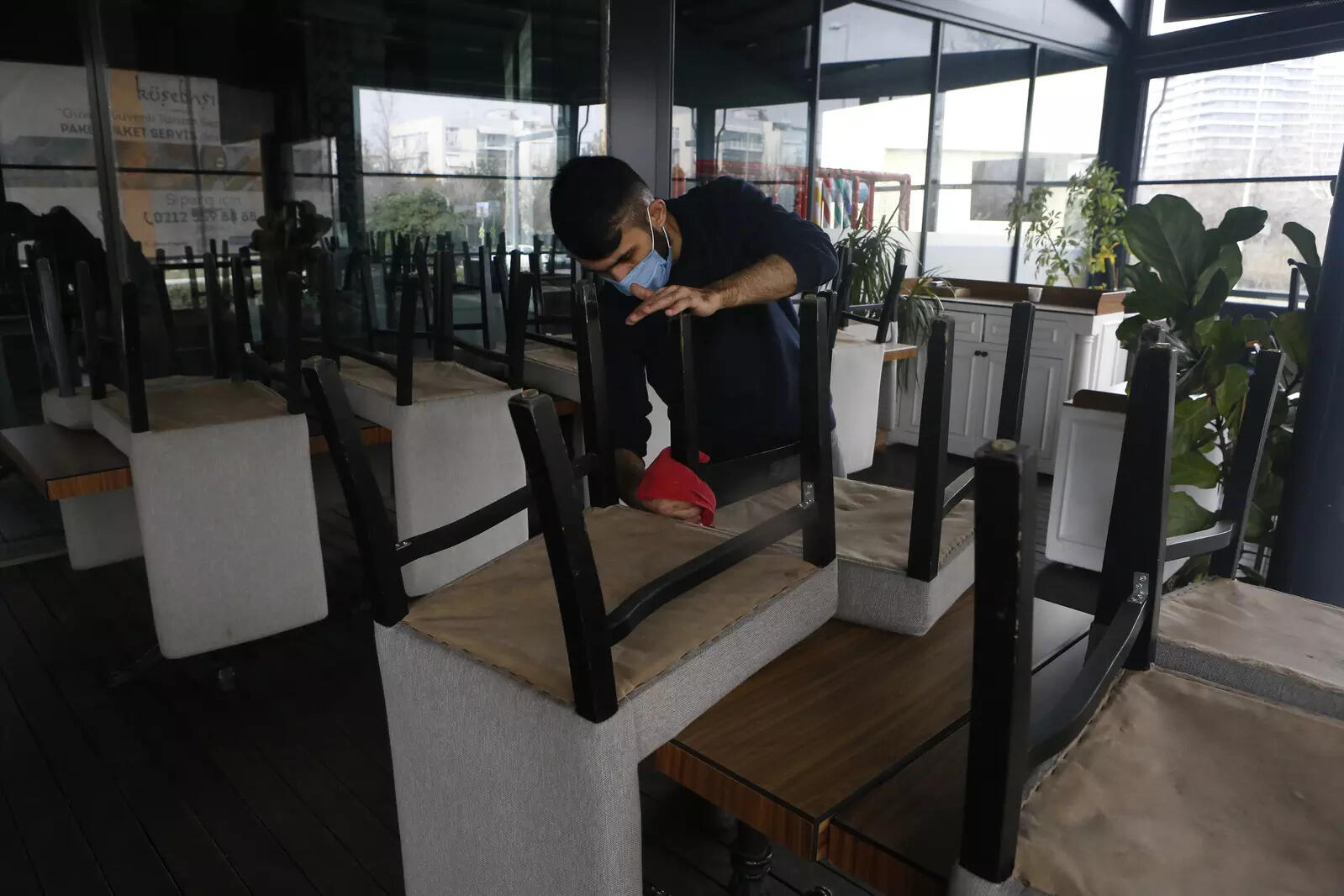 New
Delhi
: A restaurant manager felt it was April 2020 all over again. Looking at his phone flashing the
Delhi Disaster Management Authority
's notification on the imposition of night restrictions in the city, he shuddered when he recalled being asked to go on indefinite leave without pay last April. The ordeal lasted till he re-joined work in September at 30% of his pre-Covid salary, which was boosted to 70% in December. He was looking forward to a 100% restoration from next week only to be wracked with anxiety again.
Like the eatery manager, restaurant owners too have been taken by surprise by the resurgence of Covid-19, leaving them disappointed that their tentative business recovery might be truncated. Akshay Anand, the co-founder of Ophelia and Toy Room, said the sudden announcement would impact livelihoods and hoped the state government would rethink its strategy on ways to fight the pandemic.
Kabir Suri, vice-president, National Restaurant Association of India, and co-founder, Azure Hospitality, argued that the 10pm restrictions start implied restaurants shutting down by 9pm to allow diners, staff and delivery agents to reach their homes in time. Restaurateurs point out that dinner time in Delhi starts around 9.30pm and accounts for at least 60% of delivery and dine-in business.
Till last week, the authorities were assuring the restaurateurs of there being no plans to impose a curfew or a lockdown. Umang Tiwari of Big Fish Ventures was critical of such assurances, accusing the authorities of buoying their spirits only to make them pay the licence fees and taxes in advance.
Explaining why the sudden imposition of the night curbs was not conducive to business, Joy Singh of Raasta and Yeti said most restaurants planned a month in advance and so April had already been covered in the operation provisions. The announcement is, therefore, like 'a bomb dropping' on the industry, he claimed. Singh also questioned the logic behind the night curbs, wanting to know why food and beverage spaces — which have put in place the strictest hygiene protocols — were being targeted.
Unlike last year when no one knew how to deal with the coronavirus, restaurateurs now clearly know what measures can check infection. So instead of penalising eateries, the authorities should, they said, enforce Covid-appropriate behaviour in public places, markets and public transport. Most restaurateurs also pressed for the focus to be on round-the-clock vaccination for everyone rather than economy-stultifying measures like a curfew.
Amit Bagga, co-founder of Daryaganj, was worried that the decision would adversely impact his business, while Japtej Ahluwalia of Savya Rasa reiterated it was a setback for the struggling sector. Avantika Sinha Bahl of Mai Boa and Kampai and Zorawar Kalra of Massive Restaurants, who both opened new outlets in recent months, felt the ban on movement would undo the revival of the last few months. Kalra asserted that food delivery and takeaway could not sustain a restaurant, even if he agreed that the curfew was the need of the hour.
A restaurateur disclosed that most outlets survived 2020 because they had financial reserves from 2019. Resuming business with installation of restrictions took a big financial toll on most restaurants, he said. Rakshay Dhariwal, founder, Pass Code Hospitality, rued that the night curbs would force most eateries to cut down on their menus, shift to home delivery, renegotiate rent with property owners and operate with a skeleton staff.