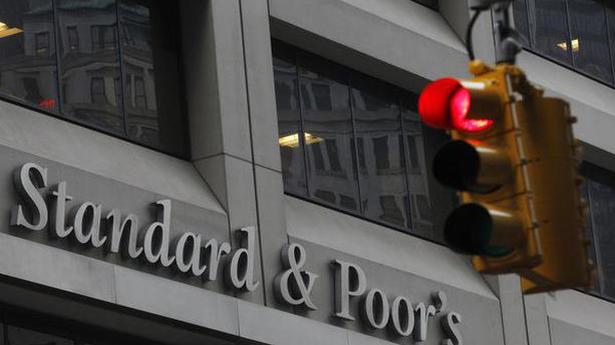 Inflation could remain sticky and warrant more rate hikes, rating agency reckons.

Inflation could remain sticky and warrant more rate hikes, rating agency reckons.

S&P Global Ratings has retained its 2022-23 growth projection for India's economy at 7.3%, citing a smaller impact from the global slowdown on its domestically-driven economy.
While it expects inflation to average 6.8% through the year, the rating agency predicted further 'material' hikes in policy rates owing to elevated core inflation levels. It has projected the exchange rate for the Rupee to average 79 to the US dollar this year, before slipping to 80.5, 82 and 83 in the subsequent three years till 2025-26.
India's retail inflation is expected to stay above the 6% mark till the end of 2022, as wheat and rice prices are rising, core inflation has been 'sticky' and food inflation may rise again, the rating firm's chief economist Louis Kuijs said. In 2023-24, S&P projects average inflation of 5%.
Though it has stuck to its previous growth projection for India amid a flurry of downgrades from other agencies and institutions — including the Asian Development Bank and Fitch Ratings, both of which have projected 7% growth this year and Moody's Investors Service (7.6%) — S&P Global expects growth to stay below 7% for the next three years.
In 2023-24, it has projected real GDP growth of 6.5%, followed by 6.7% in 2024-25 and 6.9% in 2025-26. S&P had earlier projected a 7.8% growth for 2022-23 but had scaled it down to 7.3% in May, citing inflation pressures.
"…We have retained our India growth outlook at 7.3% for the fiscal year 2022-2023 and 6.5% for the next fiscal year, although we see the risks titled to the downside. In some countries the domestic demand recovery from COVID-19 has further to go… (and) should support growth next year in India…" the firm said in an economic outlook research note on the Asia-Pacific region.
"More domestic demand-oriented economies are less exposed to the global slowdown. We expect a larger slowdown in 2023 in South Korea and Taiwan than in India, Indonesia, and the Philippines," the note said. On a month-on-month basis, core inflation seems to have plateaued in some Asia-Pacific economies and declined in India, it added.
"But in some economies, it is too early to conclude that a downward trend has started. For instance, in India headline Consumer Price Inflation (CPI) is likely to remain outside the Reserve Bank of India's upper tolerance limit of 6% until the end of 2022. That's amid substantial weather-induced wheat and rice price increases as well as sticky core inflation. And food inflation may rise again," the note emphasised.
Overall growth in Asia-Pacific ex-China has been pared by just 0.10% to 4.8% for 2022, but the region is set to remain the fastest-growing in the world, S&P Global Ratings said, projecting a 'shallow sequential recovery' in China during the second half of 2022 amid weak confidence and housing activity. China's growth in 2022 has been projected at just 2.7% this year, compared to 3.3% earlier, with 2023 expected to record a 4.7% uptick.
"We see constructive signs. Recovering domestic demand will support economic expansion as the impact of COVID-19 and restrictions abates. We generally expect significant overall growth in the second half of 2022 and a slowdown in 2023 due to weaker global demand and higher interest rates," Mr. Kuijs said, stressing that the pressure to tighten monetary policy because of inflation is generally lower in Asia Pacific compared to the U.S.
"While the resulting policy divergence could potentially invite capital outflows and depreciation, it helps contain the hit that higher interest rates have on growth," he concluded.
Asia-Pacific recorded a 4% growth in the April to June quarter, the same rate as the previous quarter first two quarters of 2022. "A pronounced slowdown in China was offset by a strong rebound in India as consumption — especially of services — continued to recover and investment grew robustly. Japan's economy also grew strongly," the firm noted.